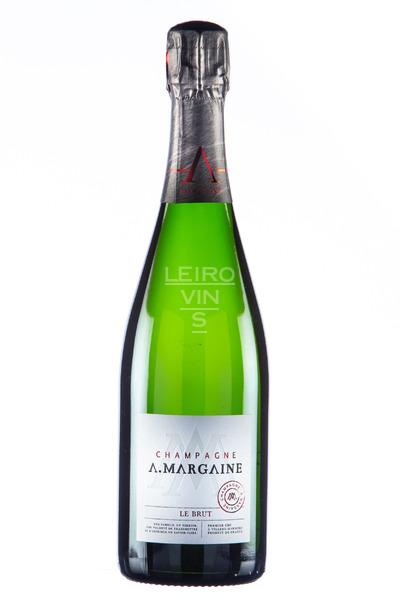 ---
Productinformatie
Bijkomende informatie over 'Champagne Margaine 1er Cru Brut NV'
ROBERT PARKER : 92 Points by Antonio Galloni
wine advocate 203 november 2012
Arnaud Margaine's NV Brut Premier Cru is gorgeous. White flowers, crushed rocks and green pears literally jump from the glass in this beautifully delineated, energetic Champagne. Vivid, crystalline and beautifully layered, the Premier Cru impresses for its balance and exceptional overall harmony. This is a great effort in its peer group. The Premier Cru is 90% Chardonnay and 10% Pinot Noir, 50% vintage 2009 and the remainder reserve wines back to 2002. I would give the Premier Cru another 6-12 months to be fully expressive post-disgorgement. Disgorgement date: July 2012. Anticipated maturity: 2012-2017.

ROBERT PARKER : 91 Points by Antonio Galloni
wine advocate 111 november 2011
The NV Brut Cuvee Traditionelle shows fabulous intensity and sheer class. Citrus, flowers and crushed rock are some of the nuances that emerge from this beautifully delineated Champagne. A gorgeous, ethereal finish rounds things out in style. The blend is 90% Chardonnay and 10% Pinot Noir, 52% 2008 juice plus reserves spanning 2007 (20%), 2005 (8%), 2004 (12%), and 2000 (8%), with partial malolactic fermentation. Dosage is 8.5 grams per liter. Disgorged July 10, 2011. Anticipated maturity: 2011-2016.

Arnaud Margaine is looking for freshness in all of his wines. To that end, the malos are often blocked, although that is a decision Margaine makes for each vintage in its entirety, which means the proportion of non-malo wine in the NV cuvees is strictly a matter of vintage blend. These fine, hand-made artisan Champagnes deserve serious attention.



ROBERT PARKER : 88 Points by Antonio Galloni
The NV Brut Cuvee Traditionelle is a delicate, mid-weight wine redolent of fragrant white peaches and flowers. The Cuvee Traditionelle is 89% Chardonnay and 11% Pinot Noir, 59% 2006 juice and 41% reserve wines spanning vintages 2005, 2004, 2001 and 1994. The wine was vinified and aged in stainless steel and bottled with 8.5 grams of dosage. Disgorged: July 2008. Anticipated maturity: 2009-2012.


BURGHOUND SCORE : 90 DRINK NOW+ (Tasted: Oct 01, 2009) Tasting note: A high-toned nose with a largely citrus component nuanced with brioche and floral notes introduces foamy but round flavors that possess good complexity on the delicious and nicely persistent finish. This is a brut of medium dryness and the depth makes for a very attractive if not especially refined effort.
Note: disgorged in July, 2008; SRP $56, 90% chardonnay, 10% pinot noir; 60% is '05 fruit and the remainder is a blend of '96, '99, '03 and '04 vintages
Producer note: Annual case production is 4,600 with 6.5 ha of premier cru sites in Villers-Marmery which is an anomaly in the Montagne de Reims an island of chardonnay in a sea of pinot noir. The clone of chardonnay used is specific to this area and cannot be found in other parts of Champagne. A large grower, Margaine sells fruit to Roederer, Bollinger, Veuve Cliquot and Lanson, "saving the best fruit for himself."
Het verhaal
Maak kennis met het wijnhuis Champagne Arnoud Margaine - Villers-Marmery
Frankrijk(Land)
Champagne(Regio)
In het hartje van "La Grande Montagne de Reims" profiteert VILLERS-MARMERY van een groot aantal uren zon op zijn "Côteaux" (wijngaarden op heuvelhellingen) die merendeels zijn aangeplant met de Chardonnay druif. Deze wijngaarden genieten sinds vier generaties van de grootste zorg en bekommernis van de familie Margaine. De kinderen, Arnaud en Karine Margaine, hebben als essentiële bedoeling de tradities te handhaven die Bernard en Marie-France Margaine van hun ouders hebben geërfd. De voorvaderlijke methodes van langzaam werkende opbouw ter productie van de stille basiswijnen zijn een echt schoolvoorbeeld van kwaliteit.
---
RELATIEGESCHENKEN & CADEAUBON
Nog op zoek naar een verrassing?
Laat vrienden, klanten, medewerkers genieten van een kwalitatieve fles wijn bij Leirovins. Met ons ruim en internationaal wijnengamma vindt u er vast een mooi relatiegeschenk. Of kies eenvoudig voor een leuke cadeaubon van Leirovins en trakteer uw relaties met een heerlijke wijn naar keuze.