Château Ducru-Beaucaillou -...
Château Ducru-Beaucaillou - Saint-Julien Grand Cru Classé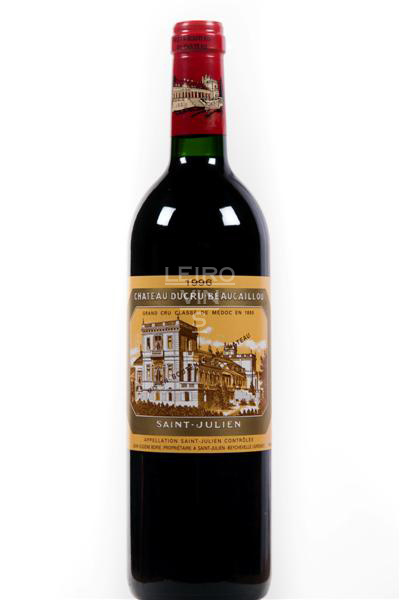 ---
Productinformatie
Bijkomende informatie over 'Château Ducru-Beaucaillou - Saint-Julien Grand Cru Classé'
Wine Advocate issue 122 April 1999
ROBERT PARKER 96 POINTS ; I tasted the 1996 Ducru Beaucaillou on four separate occasions from bottle in January. The 1996 is long, with a deep mid-palate. It also reveals tannin in the finish. This wine is remarkable. It is muscular, concentrated, and classic. Bottled in late June, 1998, it exhibits a saturated ruby/purple color, as well as a knock-out nose of minerals, licorice, cassis, and an unmistakable lead pencil smell that I often associate with top vintages of Lafite-Rothschild. It is sweet and full-bodied, yet unbelievably rich with no sense of heaviness or flabbiness. The wine possesses high tannin, but it is extremely ripe, and the sweetness of the black currant, spice-tinged Cabernet Sauvignon fruit is pronounced. This profound, backward Ducru-Beaucaillou is a must purchase. It will be fascinating for readers who own the 1996 to follow the evolution of this exceptional vintage. Anticipated maturity: 2008-2035.
Wine Advocate issue 115 Feb 1998
ROBERT PARKER 96 POINTS ; This extraordinary wine may be the greatest Ducru-Beaucaillou I have ever tasted. For now, let's call it the finest wine made at this estate since 1982. Moreover, it is developing in such a manner that it may even eclipse that renowned vintage. The 1996 boasts an opaque black/ruby/purple color, as well as a glorious, complex nose of lead pencil, licorice, weedy cassis, and subtle pain grille notes. Exquisite rich fruit is presented in a medium-bodied, undeniably elegant yet gloriously intense, pure format. The wine, which coats the palate with glycerin and intense fruit, displays a floral quality that suggests both blueberries and blackberries in its flavor profile. There is copious tannin, but it is largely overwhelmed by the wine's glycerin, fruit, and overall presence in the mouth. The 1996 Ducru-Beaucaillou is a surreal beauty that should age effortlessly. Anticipated maturity: 2005-2030.

It should be obvious to readers of my preliminary reports on both the 1995 and 1996 vintages that the family of Jean-Eugene Borie produced some of the greatest wines ever made at their respective chateaux - Ducru-Beaucaillou, Grand-Puy-Lacoste, and Haut-Batailley - in both 1995 and 1996. That has been confirmed once again in the bottled 1995s, and in the evolution of the powerhouse 1996s.
Wine Advocate issue 110 Apr 1997
ROBERT PARKER (94-96) POINTS ; On the plane ride back home from France, I was reflecting on the extraordinary job Xavier Borie, his brother Bruno, and their father Jean-Eugene, have accomplished in both the 1995 and 1996 vintages. At Haut-Batailley, Grand-Puy-Lacoste, and Ducru-Beaucaillou, they have produced 1996s that are the finest wines since 1982. I had all three wines on three different occasions during my two weeks in Bordeaux, and the resulting tasting notes were identical.

At Ducru-Beaucaillou a second wine has now been introduced, and, as Xavier Borie said, a new chef de culture, who was hired in 1993, has done wonders in the vineyard, and proved to be adept at working well with the cellar people. Where do I start describing Ducru-Beaucaillou's 1996? In a year that produced wines with high tannin levels and very ripe Cabernet Sauvignon fruit, Ducru-Beaucaillou's 1996 is undoubtedly a classic. The wine exhibits an opaque, dense, thick-looking purple color, an already complex, huge nose of flowers, minerals, and enormous quantities of black and red fruits. An important indication of the fruit's high quality in 1996 is the fact that this wine reveals no evidence of oak cask aging (it spent 3 months in primarily new oak) because the fruit is so powerful and deep! While Ducru is less massive than its more virile sibling, Grand-Puy-Lacoste, it is a gorgeously rich, layered, multi-dimensional wine that coats the palate with flavor, yet never comes across as heavy or intrusive. The acid, alcohol, and tannin mesh beautifully with the wine's framework. This will prove to be one of the most profound wines ever made at Ducru-Beaucaillou, possibly eclipsing the 1982. The bad news is that this wine will require 8-12 years of cellaring. Anticipated maturity: 2006-2030.
Please note that these tasting notes/scores are not intended to be exhaustive and in some cases they may not be the most recently published figures. However, we always do our best to add latest scores and reviews when these come to our attention. We advise customers who wish to purchase wines based simply on critical reviews to carry out further research into the latest reports.
---
RELATIEGESCHENKEN & CADEAUBON
Nog op zoek naar een verrassing?
Laat vrienden, klanten, medewerkers genieten van een kwalitatieve fles wijn bij Leirovins. Met ons ruim en internationaal wijnengamma vindt u er vast een mooi relatiegeschenk. Of kies eenvoudig voor een leuke cadeaubon van Leirovins en trakteer uw relaties met een heerlijke wijn naar keuze.